---
🎖️ Awarded #1 New Trello PowerUp of 2021!! 🚀 Awarded Fastest growing PowerUp of 2022!!
👉🏼 Add extra data, styling, custom formats, and formula calculations with the Trello free and paid plans.
🔎 Want a substitute for the old Custom Fields powerup on the free plan, this is it.
---
All the options you always wanted for extra card data but didn't know to ask
As a long time users of Trello, I wanted to break out of the limits of the standard cards and limited data options. I wanted all the features I have grown to expect from other tools like formulas, customized formatting, conditional styling, selectable icons, easy exports, and even progress bars. I built this powerup to meet my needs and yours as well.
---
Join 1000's of happy users
"I can't believe there aren't more apps that offer these features – so well done and thank you so much for developing this!!" - Cathi B
"This is one of the best powerups on Trello I have found in my last 10+ years of using Trello boards. Simply Amazing!!!" - Yogesh B
"Your Power Up is awesome! It should be named Awesome Fields!!" - Gisele P
---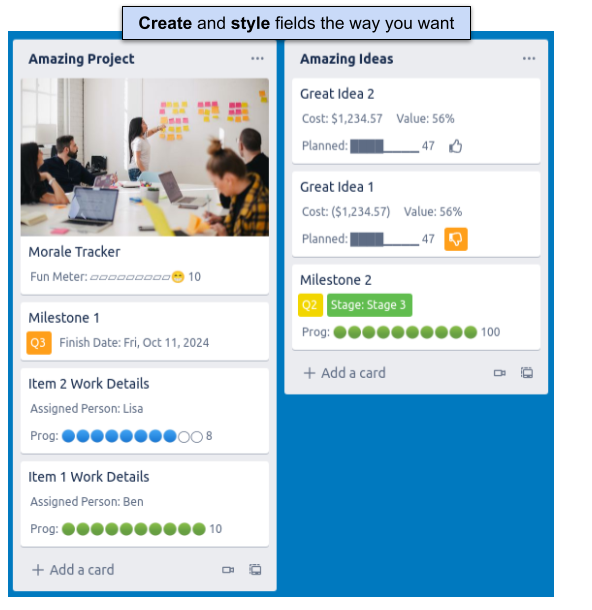 It includes everything you could want:
If there is anything you want and don't see, contact us to suggest something new.
---
Details
Calculated Fields 🖥️
Create formulas just like you do in a spreadsheet to calculate field values from each other. Supports 100+ of the most common spreadsheet functions.
Choose Fields to Show Per Card
Make every card just the way you want it by choosing which fields to show. When you copy a card or use a card template, it keeps track of the fields you want to show.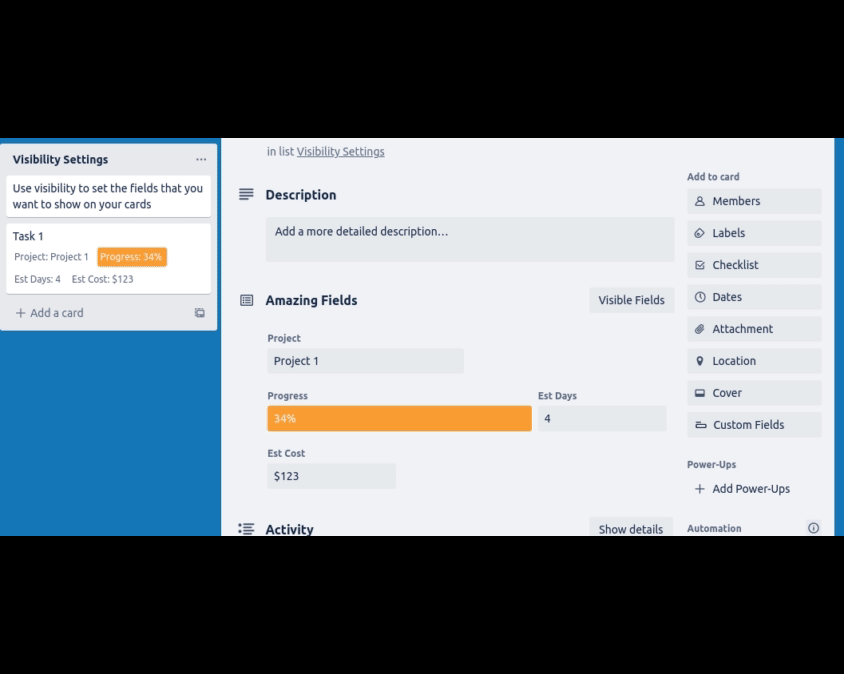 Progress Bars 📊
Have you ever wanted to see progress towards a goal on your cards? Well now you can with progress bars. Configure the style, width, range and more. There is support for custom progress bars so you can create anything you imagine.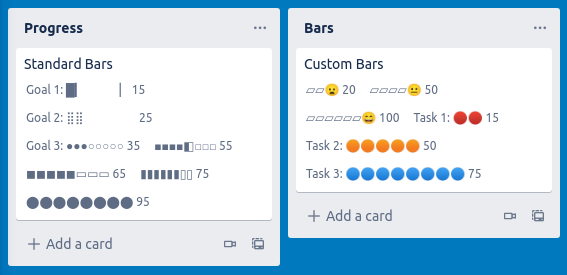 You can even setup a progress bar to "link" to the checklists on your card to show a styled progress bar as you make progress on your tasks.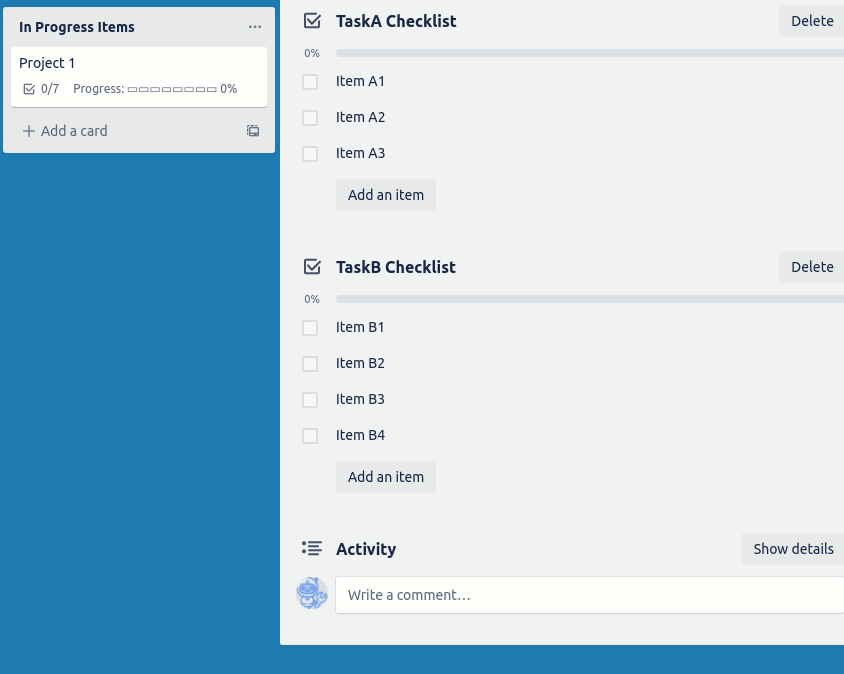 Date Formatting 📅
Choose exactly how you want dates to show on cards. Dates and times are show in internationalized formats with over 40 variations supported. Let me know if there is another option that you need.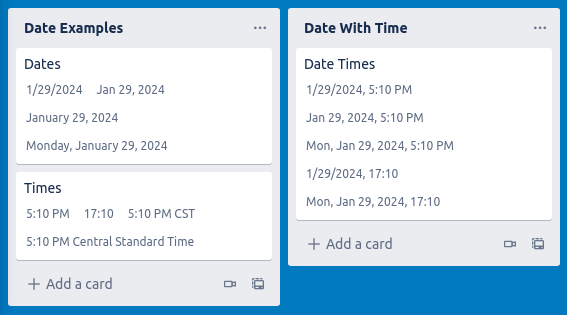 Number Formatting 🧮
Select from any combination of number formatting. All numbers are displayed in the correct international format, and you can change the number of decimal places in the number.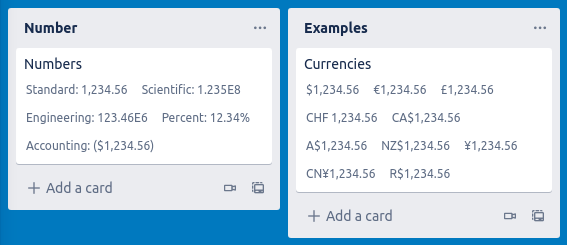 Currency Support 💰
Choose to use any of 150+ currency types from around the world.
Accounting Format 🧾
Supports styling in accounting format to display negative numbers clearly for accountants on your team.
Customized Checkboxes ☑️
No more being restricted to a single boring check style. Select from a wide range of options. Every aspect of how you show it is up to you to choose. Let me know if there are more styles or options I can add to support your use case.

Dropdown Lists
Create a dropdown to choose from a list of choices along with colors to use to decorate the choices. Very useful for things like card tags, workflow stages, categories, ratings, etc. You can select one item or multiple items.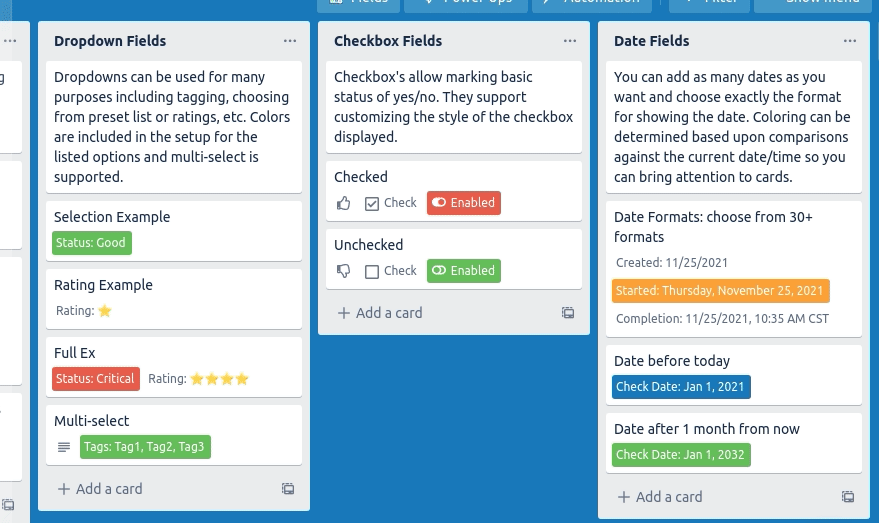 Field Display Options 🕵️
You can choose where and how you want your fields to be displayed. Choose if they should show on the front, the back, or both. Also choose if the field should be labeled or stand alone.

Tabbed Sections and Headers
Organize fields using section headers and tabs.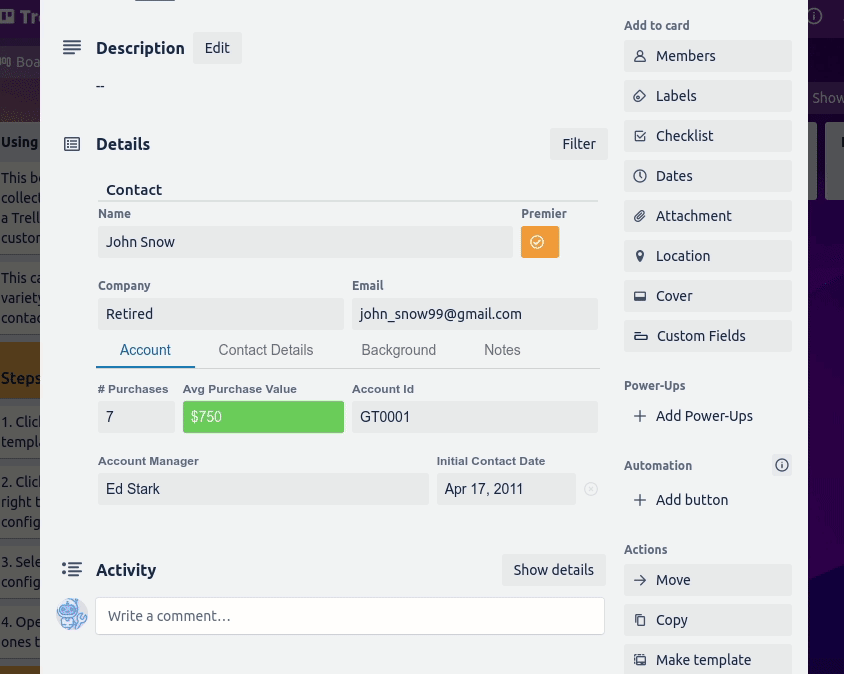 Rule Based Coloring 🎨
You don't have to use the same boring colors for your fields on a card. Use conditional formatting rules to change the color based upon the field values. This lets you do amazing things like color progress bars based upon percentage completed, highlight text fields based upon content, monitor key dates, and highlight key checkbox values. Let me know if you need a new rule and I will add it for you.

Text Template Constraints
Setup templates to restrict text input to specific formats (eg. email, phone numbers, URLs, time durations, etc). Amazing Fields comes with preset options and lets you define your own as needed. Maybe you have a part number or ticket number format that you want to lock in through a template.
If you have an idea for a new preset, let me know.
Card References
Card references let you connect cards across boards. For example have your project cards reference customer cards or project team members. This lets you build up your boards as databases of cards that can connect in any way you need.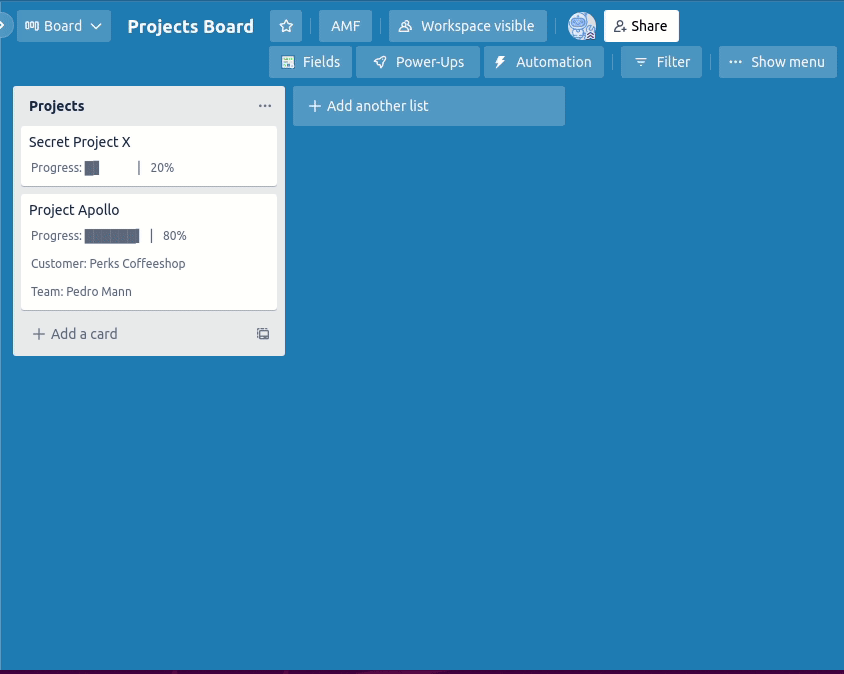 Custom Editors
No more basic ugly editors. Now even the editors are Amazing. Immediately see any conditional formatting and visually distinguish all the fields. When you change a value on a progress bar you can see it immediately. If you click on a checkbox you see the custom styled icons. Everything should just work the way you expect and look just right.
You can even adjust the layout of editors so they look exactly like you want. Set how wide the editors should be and change the way they are labeled.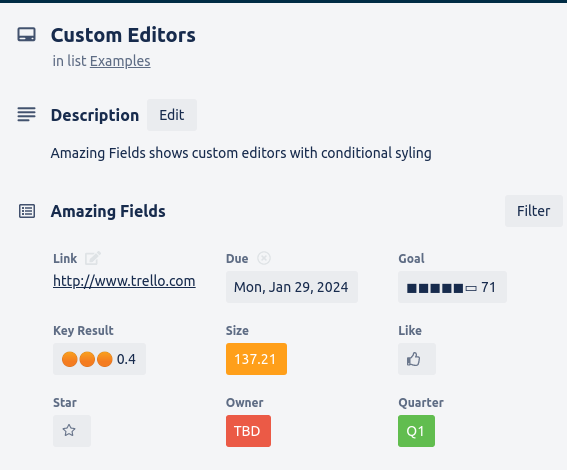 Customize Permissions Per Field
Want to hide some fields from non-administrators or restrict who can edit or view a field? I built on top of the existing Trello permissions model to let you determine who view/edit each field. You can require a specific user type or user. This enables a whole new class of advanced workflows for sharing data across your boards.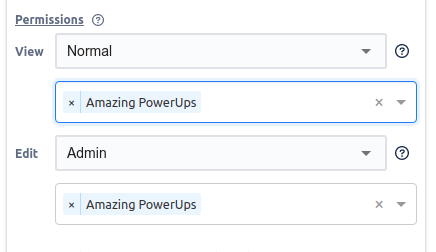 Exporting Card Data 📋
Amazing Fields allows you to export all the cards on the board including their field data to a CSV file. This can be loaded in Excel, Google Sheets, or other spreadsheet software for further processing and analysis of your data. You can use this to export both Amazing Fields data or simply to export your normal card data.
Board Backup
Configure automated backups for your board and all data. Keep everything safe and secure within your Trello account for easy disaster recovery and archival.
Custom Field Integration 🤖
As you use fields more, you may want to integrate them into core Trello capabilities like automations, filtering, reporting, and the Trello mobile ap. Powerups can't directly interface with these capabilities so Amazing Fields lets you link a field to a custom field. Anytime you change the Amazing Field content it updates the custom field and similarly when you change the value of the custom field it updates the Amazing Field. This all happens automatically for you behind the scenes.
This capability also forms the basis of integrations with other tools like Zapier or powerups that do reporting from custom fields. You can also install the browser extensions provided to hide the linked custom fields and keep your UI amazingly clean.
---
Supporters
Amazing Fields is freely available for use by as many users, boards, and workspaces as you need. There are no limits on it's use. Once fields are configured and setup they can be used by as many people as you would like on as many boards and workspaces as you need.
I ask that users who feel they are getting value out of Amazing Fields consider becoming a supporter to help me cover the cost of maintenance and hosting the powerup. Most users do not become supporters, but I greatly appreciate the ones that are. For ~$4/month it helps me ensure the quality of this powerup.
As a way to thank supporters, there are a small set of power user capabilities that require a supporter to configure. The features are still completely free for use by any number of users, boards, and workspaces.
For more details, see this support article: Amazing Fields Supporters
If you become a supporter and don't find the additional capabilities useful, just email support@amazingpowerups.com for a no-questions-asked refund. I want users to enjoy Amazing Fields. If it isn't working well for you just let me know.
---
Limitations
I hope Amazing Fields does everything you need, but I know there are some use cases where you may need a different tool.
The primary limitation people ask about is that some advanced capabilities like automations and third-party integrations require the use of a paid Trello account. Trello charges for those features and Amazing Fields does not try to circumvent that. Instead you need to get a Trello paid plan and link your Amazing Fields to a custom field.
---
Alternatives
I am glad that you found Amazing Fields, but I know there are other powerups you may be considering for adding data to your cards.
Trello Custom Fields: Trello paid plans have support for adding Custom Fields. These allow you to add basic data to your cards and support automations. In comparison, Amazing Fields is more focused on advanced features like formulas, formatting, presentation, and customizing fields.
Smart Fields: The Smart Fields power up allows adding fields to cards. It's primary focus on on calculations. In comparison, Amazing Fields not only supports formulas, but also improved data entry, customization, and presentation of field data.
---
Getting Started
There are a few short steps to get started using the Amazing Fields PowerUp.
See the Amazing Fields docs site for a full walk-thru:
Templates / Examples
Take a look at these templates to see what is possible with Amazing Fields. Click on "Create board from template" after you open the links and then click on the "Fields" board button to see the Amazing Fields settings.
Contact
To get help or suggest a new features, please contact me directly at support@amazingpowerups.com. I love feedback and will get back to you as quickly as possible.
Links
Release History
Amazing Fields is under active development. For a full list of changes see: Amazing Fields Changelog